Karen's UN-PAPER Towel Story
Karen's UN-PAPER Towel Story

Our Family Journey to a Paper-Towel Free Home

Un-paper towels are essentially reusable towels that are the same size as traditional paper towels. When Rachel introduced me to them I knew instantly that I was going to implement these into our house. I wanted to be done with buying single-use paper towels forever. However, I knew it would be a challenge with a family of 5. It was a challenge, but definitely worth it!

---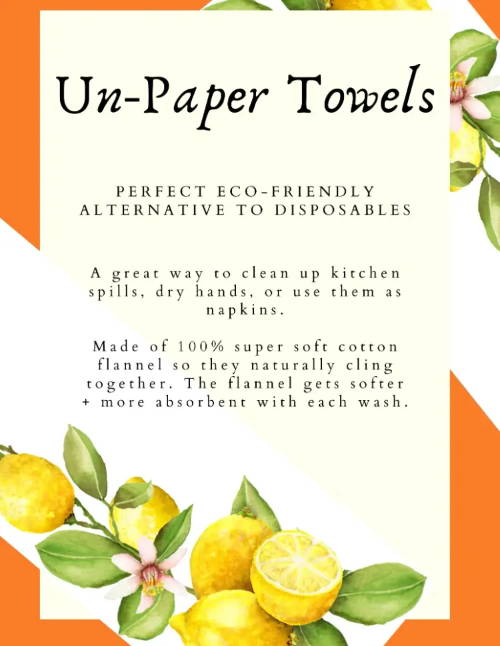 ---
The average person uses around 3000 paper towels in a given year (80 rolls). When we look at this on a bigger scale, 13 billion pounds of paper towel are used each year.
That translates to 110 million trees and 130 billion gallons of water.
---
After my conversation with Rachel I was intrigued. A reusable towel that is used to clean messes, drying hands in addition to general cleaning...can it be possible? I immediately got on Amazon and started researching. I was amazed as to how many options were available - there were lots of choices and tons of reviews. This told me there are many families moving toward this eco-friendly paper towel option!
As many paper towels as we go through in a day I knew I had to order a lot to even come close to making this work for our family. I ordered a couple different kinds - around 60 total. Bonus: they are very affordable so I knew we would make our money back and start saving money very quickly is this works.
That evening I explain to Jason and the kids our new initiative on paper towels. You would've thought I had 2 heads...they thought I was crazy! I explained that it would be challenging at first, but eventually we wouldn't notice the change at all. So the journey begins...
Week 1 - My Amazon package arrives and I'm super excited. At the same time, I get gigantic eye rolls from the rest of my family. I wash and roll-up the towels and tell them to use them like they would a paper towel but throw them in the hamper when finished using them. My plan was to wash all the dirty towels each night. The first couple of days I get a lot of grumbles and complaining, but so far so good. One minor setback...I had to travel out of town for the week and when I came back I found the pantry stocked with a mega pack of traditional paper towels....Jason!!!
Week 2 - With the mega rolls in the house, this week was more challenging. Everyone but myself was gravitating to the mega rolls...
Week 3 - With the store-bought paper towels dwindling (yes, this is how many paper towels we'd go through each week) I noticed everyone using more and more un-paper towels - YES!!! They are getting more comfortable with the idea of using cloth vs paper.
Week 4 - The family is totally on board and we have a stream-lined method of using and washing the un-paper towels. SUCCESS!
My recommendation is to plan for a 4-week transition period when switching. I do think quitting cold-turkey is best because if there is a roll of traditional paper towels sitting out, the family will definitely reach for that first. Hide a roll somewhere to use if absolutely necessary or in the bathrooms.
UN-PAPER Towels in the Bathrooms
When we first made the transition in the kitchen, I wasn't ready to give up the traditional paper towels in the bathroom (sink, counters, toilets). However, since then I have come up with an un-paper system that works.
1. Have separate un-paper towels for bathroom (design, size etc). Have these stored in a cleaning caddy along with all-purpose cleaner.  
2. Have labeled mesh laundry bags (lingerie size is best) hung on the wall in the laundry room (mine just say "bathroom" and "utility". Once a towel has been used they are immediately rinsed and put in the mesh bag. All those towels get laundered together. After washed, they get put back into the cleaning caddy.
Overall, our journey to using un-paper towels was, for the most part, and easy one. And if my family can do it, your family can too!!!
Karen is the founder & creator of Gaia's cleaning line and co-owner of Gaia Natural Home. She's a health educator and stresses the importance of prevention. She found a need and was determined to create truly "clean" cleaning products after her 3 children were born. With her husband, Jason (a biochemist), by her side she was able to develop high-quality, toxic-free cleaners. You'll find her in the flower garden, cooking in the kitchen, at the ball fields, and hanging at the beach with her family in Santa Rosa Beach, FL along the famous 30a highway.
---